Last September 10, 2015 Workshop about Andaland System was held at the Institute of Natural Resources and Agrobiology of Seville (IRNAS)(CSIC). This system is a milestone tasks 1.3.2 RECUPERA2020 project, coordinated by the group of Irrigation and Ecophysiology of Crops IRNAS-CSIC, and active collaboration with the engineering firm INCLAM water, and assessment firm Evenor-Tech soils.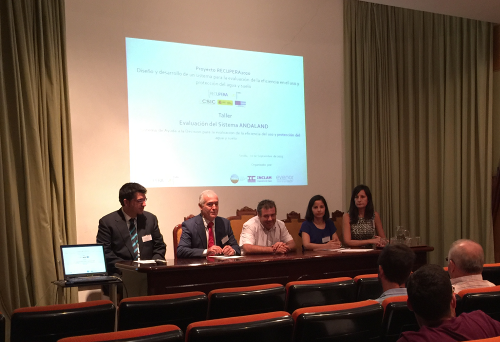 ANDALAND is an online tool to make decisions about sustainable use of land and water taking in account socio-economic aspects, with special emphasis on management of different irrigation technologies, adapted to the environmental characteristics of Andalusia in global change scenarios. In addiction the platform also provide a paper catalog of Andalusia soils. It's expected that both finally will be launched at the end of November 2015.
The purpose of the event was to evaluate the suitability of the tool with potential users, land managers Andalusia academic, administrative and private sectors. The event was attended by representatives of the Consejería de Agricultura y Pesca of Junta de Andalucía, FERAGUA, WWF, Department of Human Geography de la University of Seville, CSIC, CITAGRO, TEPRO y AQUAMÁTICA.
In the event various presentations and participatory exercises was maked in order to added value of the platform ANDALAND according to the experience of water managers and floor they were made in Andalusia. We thank your interest attendees and the comments and criticisms made.
In addiction to other applications, ANDALAND system can be used in precision agriculture to achieve a more efficient agriculture in terms of productivity and environmental sustainability. The system is presented as an effective tool to assess the quality of soil and water, essential basis of life and support of multiple production systems.
For more information, you can enter the website www.riego-recupera2020.es.